Article Submissions, Policies, and Pricing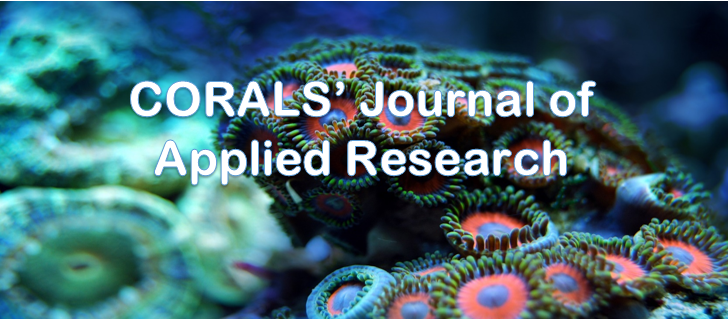 Our Scope and Focus
CORALS' Journal of Applied Research (C'JAR) welcomes articles in all applied research areas. Both theoretical and applied articles will be considered for publication; however, theoretical papers must provide a clear link to essential and exciting applications, either by showcasing their use in current practice or by including an implication for practical application section in the final section of the article, before the conclusion. Using a wide range of research methods, including statistical analysis, meta-analytical work, qualitative explorations, case studies, field research, systematic literature reviews, or historical analysis, articles examine significant applied research questions from a broad range of perspectives. Nearly all research designs will be acceptable for submission, and unique methods and designs will be welcome (for example, we accept critical incident techniques and traditional and modified Delphi studies).
C'JAR intends to provide a safe and welcoming environment for recent post-docs who have not been published to find their first journal in which to publish. Faculty members needing published work as a job requirement should consider us your go-to journal. We also encourage submissions from seasoned researchers to create a blend and balance of research. And, once you are in our C'JAR family, we hope you return to continue showcasing the wonderful research you have done.
Our Post-Doc Mission: Too much doctoral research is left on the table when students graduate. Whether life gets in the way or journals refuse to publish their work, dissertations, theses, and Capstone doctoral studies rarely make it into article form in scholarly journals. We will help change that!
C'JAR is an open-access journal that should appeal to academic and practitioner researchers, students in higher education, and non-research practitioners who operate in the industry and field of the journal's published research. A subscription/notification process is available to notify you when new issues are published. Sign up for that here.

Submission Process, Article Review Process, and Fees
Submission Process
All articles must be loaded using MS Word (only) and follow APA 7 formatting, except for the listed exceptions below. Please use Times New Roman type and 12-point type for the content, and 10-point type for Tables and notes. (Note, we publish in 10-point type).
Include a cover page with the title in Title Case (not all-caps), each author's name, followed by credentials (i.e., PhD or MD), a brief biography and email address, and this statement, "By submitting this article, the authors agree they have read and will follow the policies and procedures of C'JAR as noted in the submission policies information."
Exceptions and guidance to APA formatting:
Tables, figures, etc., are placed where they belong, with APA titles. Leave one additional line between the title and the table or figure.
Tables should be 10-point type, single-spaced, in the same font as the article (i.e., Times New Roman). Figures with written information should have fonts no smaller than 10-point type, all of which should be legible to a reader. Notes should also be in 10-point type and single-spaced. All other APA table and figure guidance should be followed.
Abstracts should follow APA's guidelines. Be sure to provide a list of pertinent Keywords to enable search engines to find your article. Please do not self-cite within your article - if you have, change your name to "author" for submission. (We use double-blind peer review).
Double-space your references and use a hanging indent. Do not use manual line spacing – use the Word double-spacing feature.
Please consider using Grammarly to edit your work, or the grammar-checking service of Word, at a minimum. We will use a premium version of iThenticate, Grammarly Premium, and Reciteworks to provide details on other changes that might be needed. We do not make more than minor or formatting changes. We can provide you with editing services through CORALS LLC (our parent company) for a separate fee. Bundle discounts are available.
Once you have followed the outlined formatting, you can pay the article submission fee (ASF) and upload your article. ASFs cover the cost of sending the articles through our plagiarism scanning software and Recite, monitoring the submission of articles by staff, and receiving peer review. The non-refundable ASF covers one article submission and is $100.00. Unlike most journals, our peer reviewers receive payment for their services, encouraging a more constructive peer-review process.
Submit the article through the submission portal. Once you have gone through the process, you will receive an invoice from CORALS LLC for $100.00 with instructions on payment. Once the payment has processed, we will notify you that a peer reviewer was contacted, we will run your article through iThenticate and Reciteworks, and the process will begin. You can track the process on your author portal by logging in. We also keep you in the loop via email. We thank you in advance for your submission!
Article Review
Articles submitted to C'JAR for possible publication are subjected to a double-blind peer review process. However, the initial review is not blind – the Editor-in-Chief or the Associate Editor in charge of Production will take your article and remove the name from the title page. (Please do not self-cite within your article - if you have, change your name to "author" for submission). Then, they will use plagiarism services and Reciteworks to generate reports for the peer reviewers. They will fill out a cover sheet for the reviewers, including your article title, and then send the reports and the article (with your name removed) to the peer reviewer assigned to your article. The peer reviewer will read your article and mark the rubric with decisions regarding the following areas.
Method
Design
Analysis Technique
Types of Data
Perceived level of Reciteworks issues
Perceived level of iThenticate issues
Perceived level of grammar errors
Perceived level of APA formatting errors
Perceived level of readability errors
Perceived level of analysis errors
Application to Practice
Application to Real World
Page length
Number of words
Would you recommend we publish this article in its current state?
If errors were revised, would you recommend we publish this article?
Why?
Peer reviewers have 1 week to decide if they will accept the offer to peer review your article and 3 weeks to return the article with comments to the Editing team. Once the results are received, the editors will send the submitted article with the rubric back to the author with the following potential decisions:
(a) Accept the article "as-is" – it will be published in the next open issue, subject to payment of the APF.
(b) Accept the article with changes – after changes are completed, a new round of review will occur until a decision of (a) is made.
(c) Reject the article. If rejected, you will be provided the details of why it was rejected and whether a rewrite or revisit of the data might make the article salvageable.
Authors can request and receive copies of the iThenticate, and Reciteworks reports for $15 each to assist with revisions. Authors can also inquire about having an editor assist with the revision process for a fee (all revision fees are custom to the article based on the amount of work and time we estimate it will take to revise). An invoice similar to the ASF will be provided, and the article will be revised until publishable for the quoted flat fee. (Please note that our parent company, CORALS LLC, handles the revision process).
When you receive your decision, the next deadline for the next issue will be provided to you so that you know when you need to complete the changes and/or pay your APF to be included. Once we receive the clean article and payment, the team will begin preparing the article for publication. You will be notified when your article hits the online press. You can access the article online and download the .pdf from the online platform when the journal goes to print. You will have a Cross-Ref DOI and can use that to cite your article for any purpose.
Article Processing Fees
C'JAR receives an Article Processing Fee (APF) before publishing accepted articles. This fee covers hosting published work online and is accessible (free of charge) to all readers. C'JAR will include the amount of the APF in the acceptance email. The APF is determined by the total word count of an accepted article's final version (after edits). Word count includes tables, charts, and references. After the APF is received by C'JAR, your estimated publication date will be provided. The APF is based on the following:

Note: We now discuss payment plans for APFs. However, publishing will be delayed until the full APF is paid.
We recommend reduction options for articles over 13,000 words; if reduction options are not possible and the Editing team and authors wish to move forward with publication, a custom APF will be discussed, negotiated, and provided.
Article proofs will be provided to authors before publication, and authors will have two weeks to review for errors and provide feedback. The article will be published without changes if no feedback is provided by the deadline.
Open Access Policy
C'JAR provides immediate open access to the journal, which makes research freely available to the global public. All authors must agree to use the Creative Commons licensing version Attribution-NonCommercial-ShareAlike: CC BY-NC-SA.
This license lets others remix, adapt, and build upon your work non-commercially if they credit you and license their new creations under identical terms.
(See this website for more information: https://creativecommons.org/licenses/by-nc-sa/4.0/)
Be sure you have ownership of all items within your article and have obtained all required permissions from any borrowed content, instruments, figures, etc. By submitting your APF, you warrant and guarantee to C'JAR that you have obtained such required items.
Plagiarism/Data Fraud/Errors/Corrections/Retractions
C'JAR will never knowingly publish an article that contains plagiarism or is based on fraudulent data. If such an allegation is made, post-publication, the article's authors will be notified immediately, which they will be expected to respond and refute. During the investigation, the article will be removed from publication with a note stating, "Article removed temporarily." If a finding is made that data fraud or plagiarism occurred, the article will be removed permanently, and a note will replace the article's location, stating that it has been removed permanently.
If the article is found to have an error needing correction, those corrections will be made, and a note at the end of the article will state that modifications were made to the original publication.
Note that retracted articles, for any reason, do not receive APF refunds. Further, C'JAR will not be held responsible for any data fraud or plagiarism findings. The sole remedy for plagiarism or other fraud results will be article removal from the journal site.
Journal Funding
The following methods fund C'JAR: ASFs, APFs, donations (which are welcome), CORALS LLC when required, and online advertisements. If your business wishes to advertise in C'JAR, please email us for our advertising fee schedule (CORALSJAR@gmail.com).